$0.99
$0.00
Oil Vaults
No more keychain oil vials that go missing or leak in your pocket. Oil Vaults are oil vials that go in your wallet | backpack | first-aid kit | 72-hour kit | glove box | and more. With Oil Vaults, you are prepared no matter where you go.
An Oil Vault is a credit card sized consecrated oil packet for use with LDS priesthood blessings.
Gone are the days of hoping you have the right keychain, or that your vial hasn't leaked, or broken off. With the Oil Vault, you will always be ready in a time of need. At the convenient size of a credit card, the Oil Vault will fit perfectly in a wallet, purse, or phone case.
Oil Vaults are made of durable, heat sealed, puncture resistant packaging.
Filled with 100% pure, unconsecrated, olive oil.
Simply tear off the tab and it is ready to use.
Products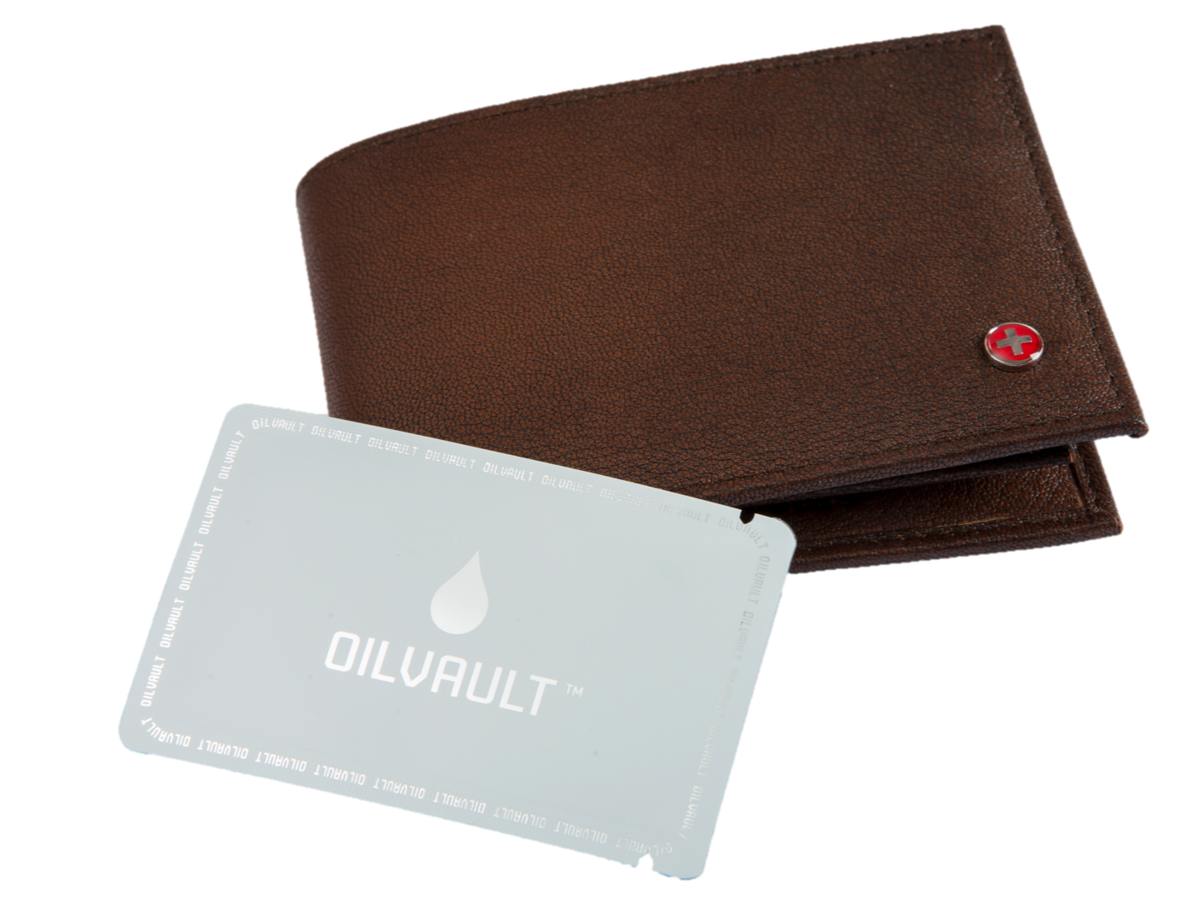 Oil Vaults are nearly indestructable so feel safe putting them in your wallet, backpack, luggage, or first-aid kit.

Oil Vaults also last up to 2 years.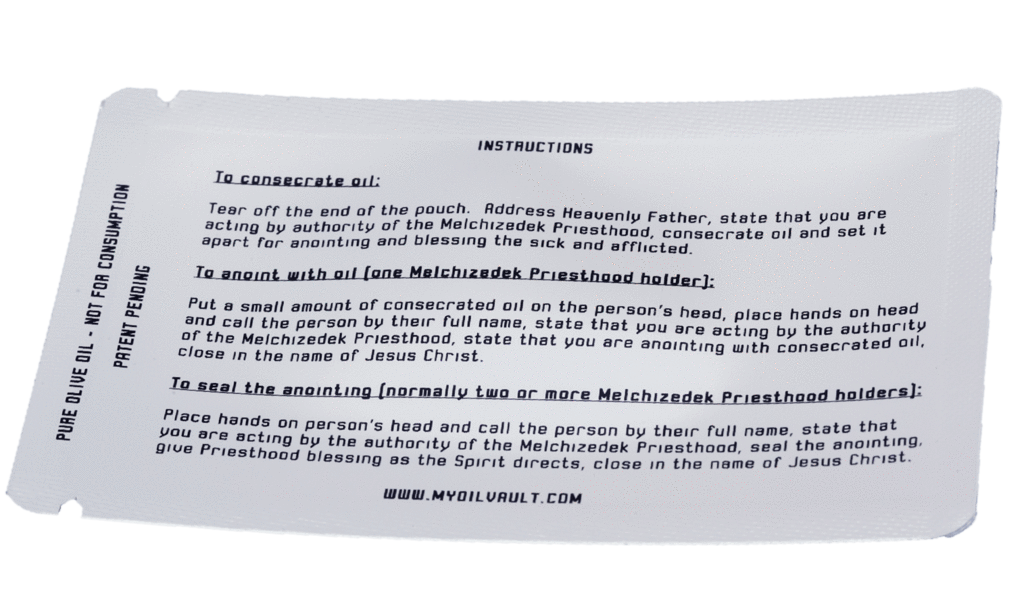 Instructions to give a blessing on the back of each packet
Nothing is worse as a priesthood holder than going to give someone a blessing and not being sure what the words for the blessing are. Whether you are new to the Melchizedek priesthood or just get nervous, now you have the words with you every time.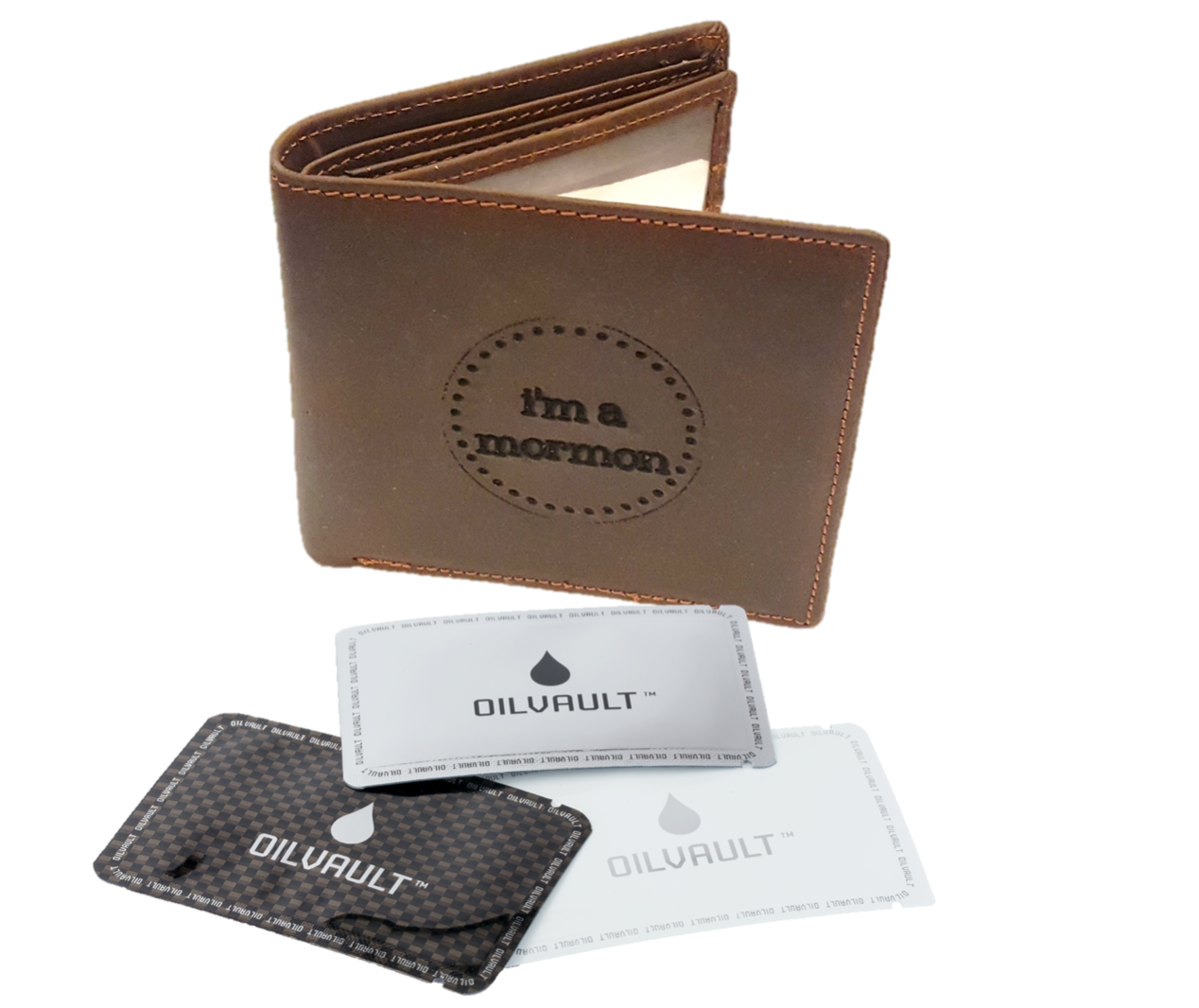 Oil Vaults make great gifts for the special priesthood holder in your life.
Shop Now
Length of time to fill
I didn't rate because I don't want you to have a bad rating. It took five weeks to fill. In the meantime I ordered again and I'm still waiting for the second order to arrive. love the product, hate the wait.
Keep them everywhere
These are perfect. I keep
One everywhere. In my wallet, glove box, kids backpack, husbands wallet. Never know where/when oil will be needed. Amazing how many times oil has been needed and no one has any. This way there is always some available. I also five a packet or 2 to new elders when they are ordained. Makes a nice little (different). Only complaint was shipping time was a little slow!
Convenient
The oil vault packet fits perfect in my wallet which is so much better then carrying around a vial for me because I don't like lots of keys and key chains to stuff in my pocket. This is such a great alternative. For those new to priesthood blessings its convenient that it has the words and instructions print on the packet. Such a great idea!
Great Product
A member introduced Oil Vault to me on my mission and gave me a few packets. After I returned home I found myself in situations where no one had a vial of oil and that's when I remembered the Oil Vaults in my wallet. These have proven to be a great way to carry oil with me wherever I go. They're easy and convenient to use on short notice.
I have not received my order
I have not received my order.