$0.99
$0.00
Oil Vaults
No more keychain oil vials that go missing or leak in your pocket. Oil Vaults are oil vials that go in your wallet | backpack | first-aid kit | 72-hour kit | glove box | and more. With Oil Vaults, you are prepared no matter where you go.
An Oil Vault is a credit card sized consecrated oil packet for use with LDS priesthood blessings.
Gone are the days of hoping you have the right keychain, or that your vial hasn't leaked, or broken off. With the Oil Vault, you will always be ready in a time of need. At the convenient size of a credit card, the Oil Vault will fit perfectly in a wallet, purse, or phone case.
Oil Vaults are made of durable, heat sealed, puncture resistant packaging.
Filled with 100% pure, unconsecrated, olive oil.
Simply tear off the tab and it is ready to use.
Products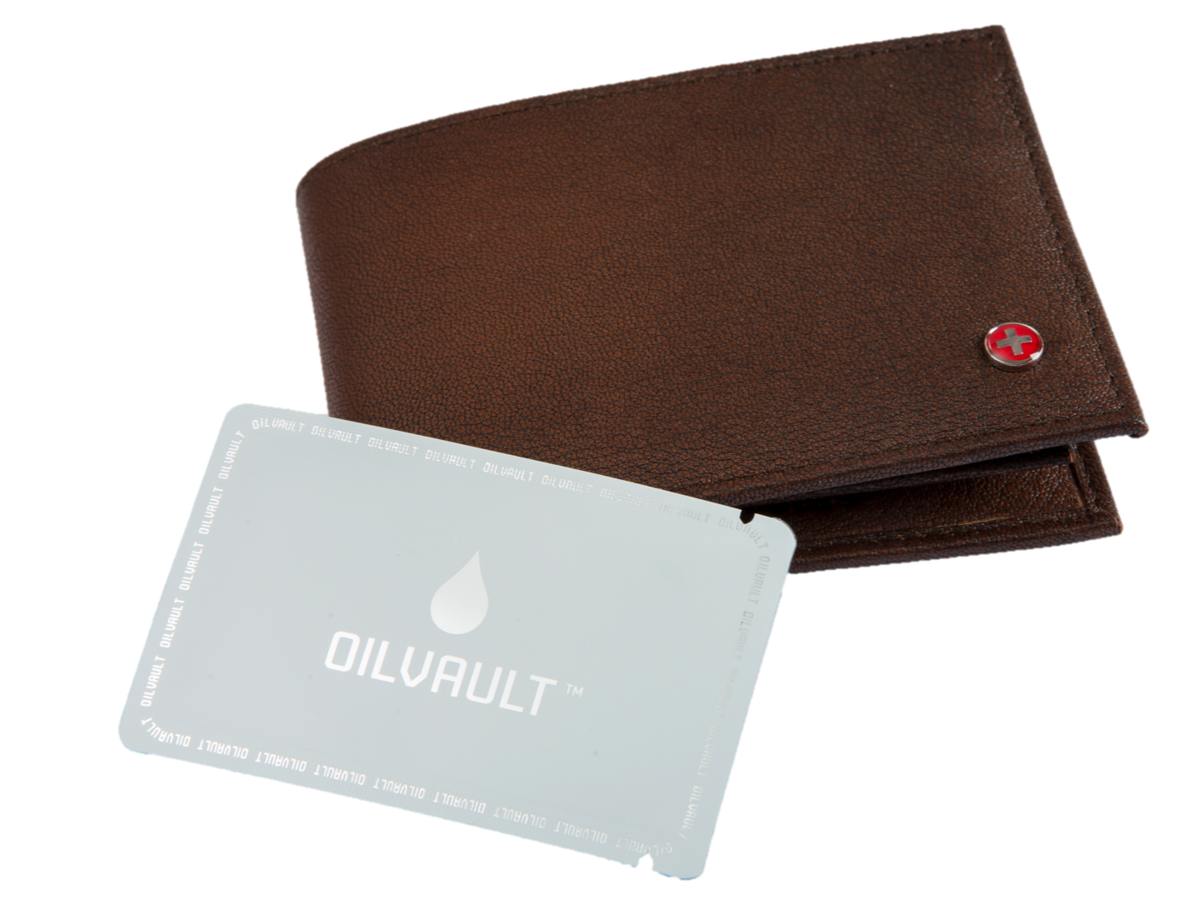 Oil Vaults are nearly indestructable so feel safe putting them in your wallet, backpack, luggage, or first-aid kit.

Oil Vaults also last up to 2 years.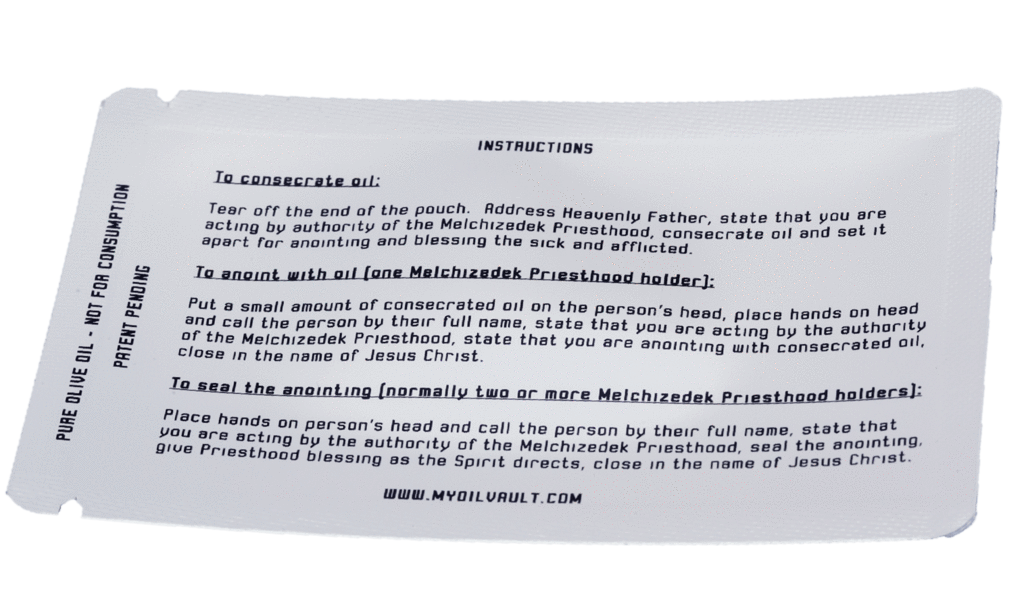 Instructions to give a blessing on the back of each packet
Nothing is worse as a priesthood holder than going to give someone a blessing and not being sure what the words for the blessing are. Whether you are new to the Melchizedek priesthood or just get nervous, now you have the words with you every time.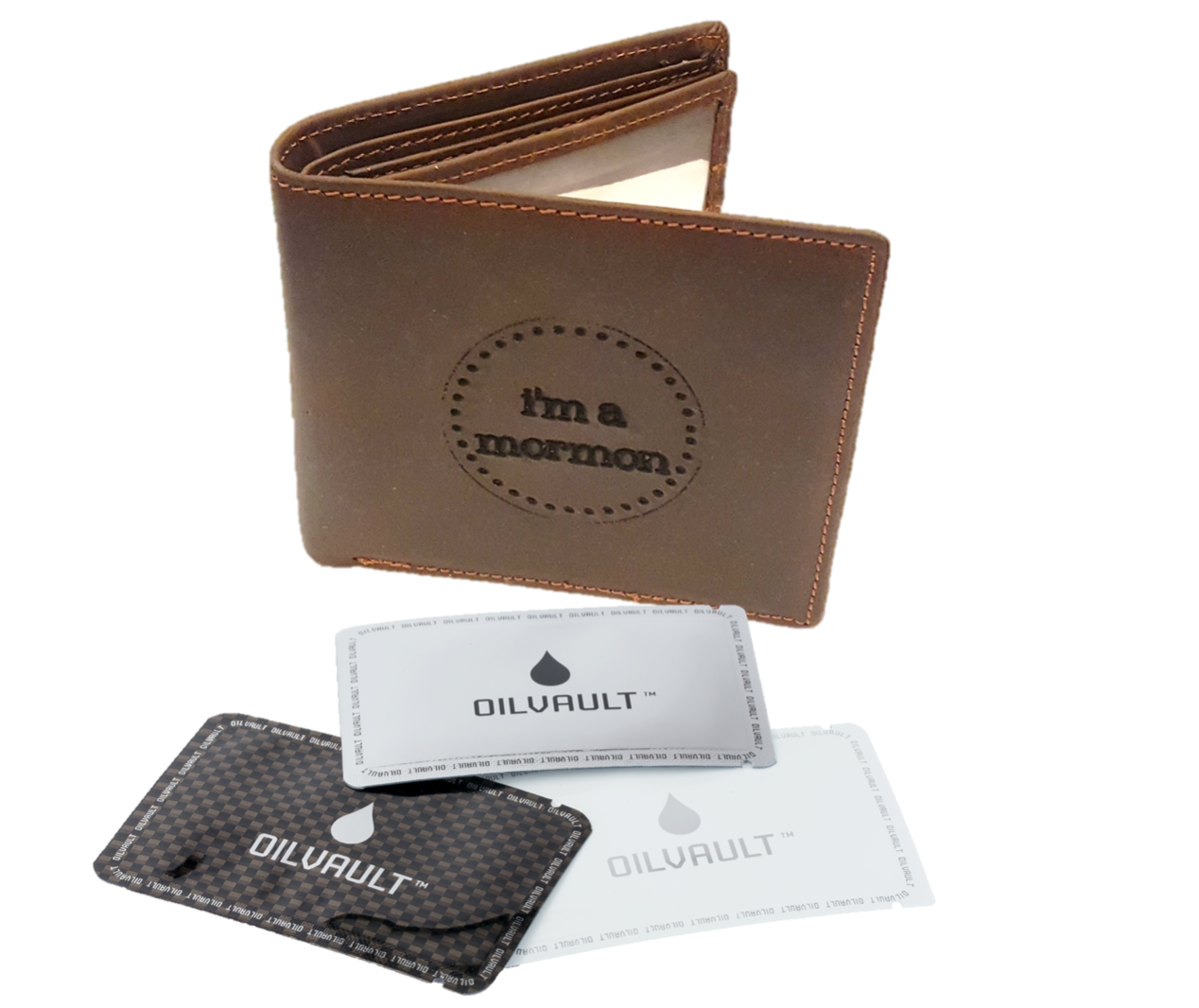 Oil Vaults make great gifts for the special priesthood holder in your life.
Shop Now
Wonderful Product
I no longer have to search for oil when giving a blessing, because i now have oil vaults everywhere i need them. Greetings from germany!
These are great !
The young man giving me a blessing tonight, showed this product to me. I will order them and keep some on hand for those times when the brotheren come give to me a blessing and rush over and forget their oil. It has happened a few times. I appreciate him and his effort to always have them on his person just in case. Praise God!
awesome, very convenient, thanks!
Perfect for traveling!
Just purchased my second order of these. The first order was given to my husband, sons, and son-in-law. My husband has an oil vail keychain and keeps one of these packets in his wallet. On a recent trip out of state, he needed to give a blessing, but we had taken the car instead of his truck with the key chain. He was pretty grateful to have this with him. The size is perfect and he is always carrying it with him. Thanks for the great product and great price. Everyone will be getting more- they are wonderful gifts.