$0.99
$0.00
Oil Vaults
No more keychain oil vials that go missing or leak in your pocket. Oil Vaults are oil vials that go in your wallet | backpack | first-aid kit | 72-hour kit | glove box | and more. With Oil Vaults, you are prepared no matter where you go.
An Oil Vault is a credit card sized consecrated oil packet for use with LDS priesthood blessings.
Gone are the days of hoping you have the right keychain, or that your vial hasn't leaked, or broken off. With the Oil Vault, you will always be ready in a time of need. At the convenient size of a credit card, the Oil Vault will fit perfectly in a wallet, purse, or phone case.
Oil Vaults are made of durable, heat sealed, puncture resistant packaging.
Filled with 100% pure, unconsecrated, olive oil.
Simply tear off the tab and it is ready to use.
Products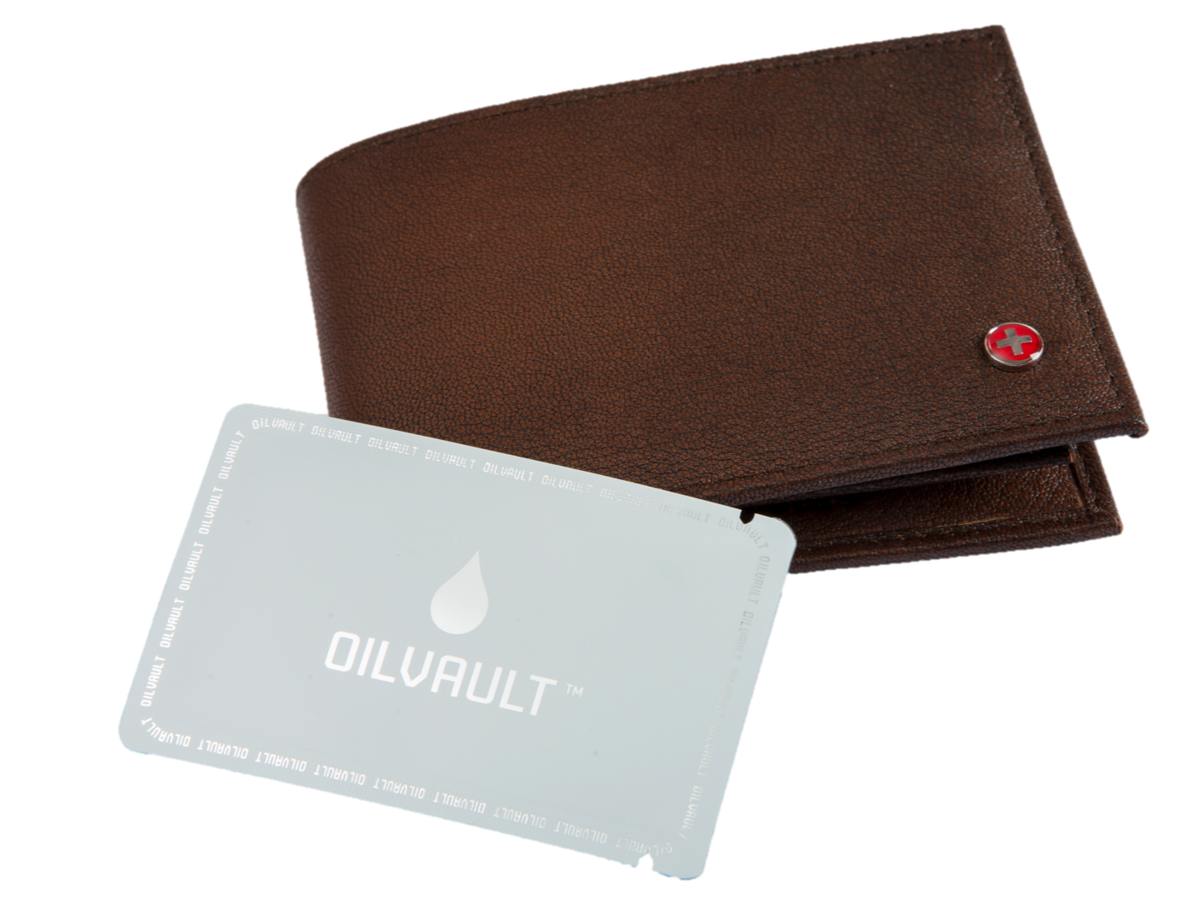 Oil Vaults are nearly indestructable so feel safe putting them in your wallet, backpack, luggage, or first-aid kit.

Oil Vaults also last up to 2 years.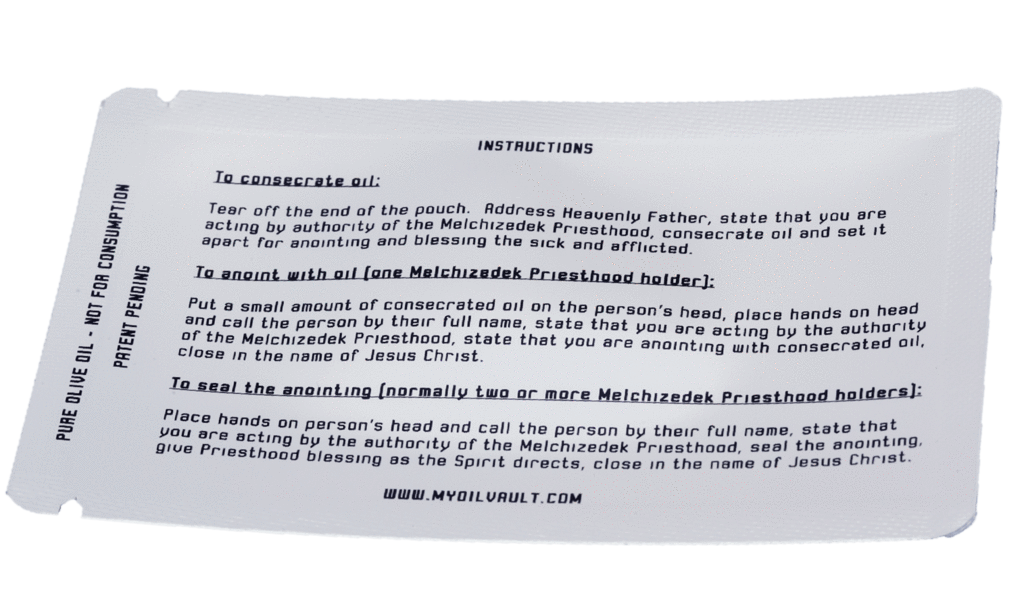 Instructions to give a blessing on the back of each packet
Nothing is worse as a priesthood holder than going to give someone a blessing and not being sure what the words for the blessing are. Whether you are new to the Melchizedek priesthood or just get nervous, now you have the words with you every time.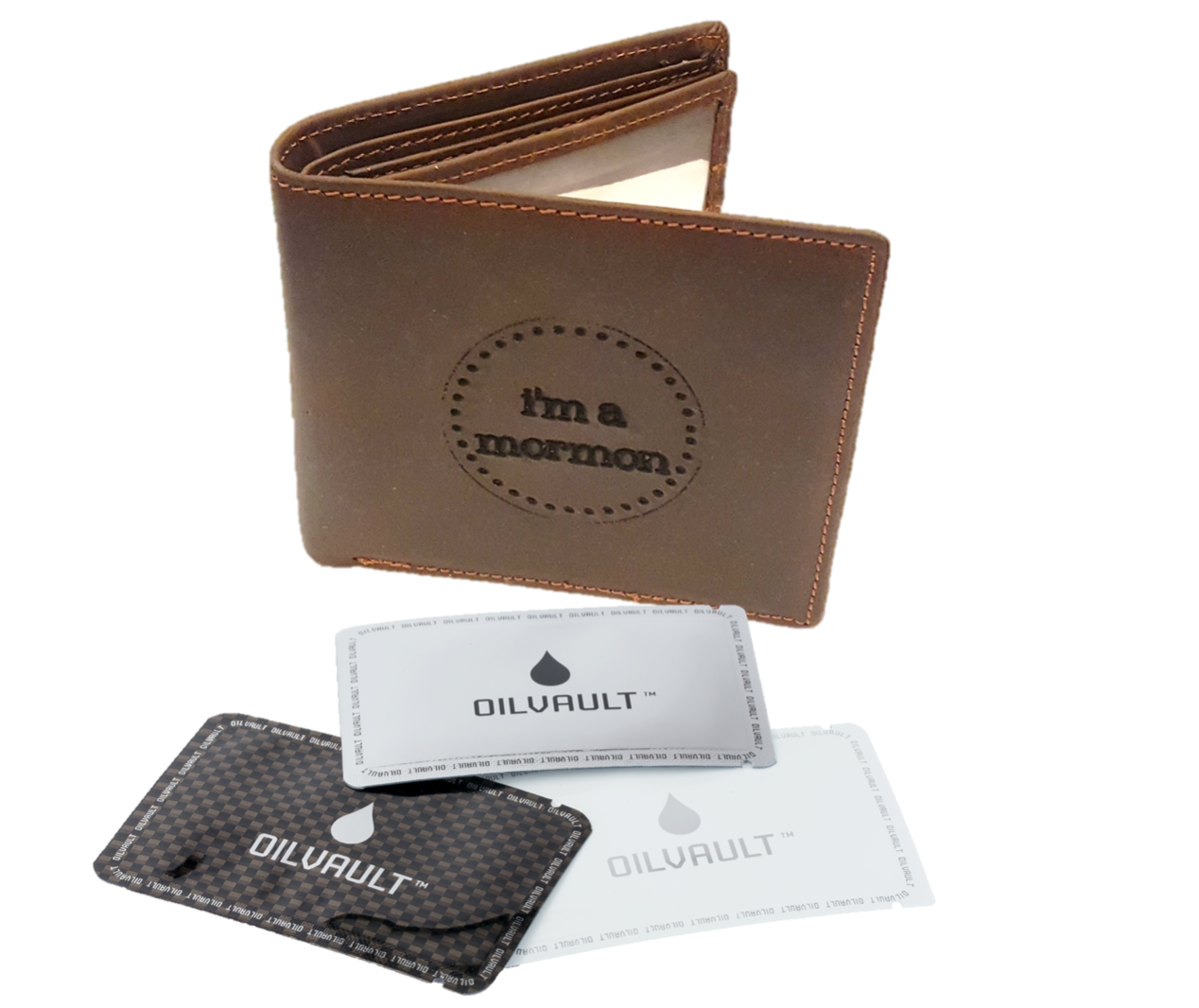 Oil Vaults make great gifts for the special priesthood holder in your life.
Shop Now
Handy and readily available
This package is perfect for wallets and exactly the same size as a standard credit card. Best idea and far superior to typical oil vials.
Awesome for Father's Day.
We bought these to hand out on Father's Day. The men were surprised and very happy with them. Oil vault exceeded my expectations with their sustainer support. They shipped quickly and communicated with me about the expected shipment date as well as delivery. I feel like these are such a good value for the price. Thank you!
Perfect for the men in my life
I gave these to my husband, my son-in-law's and guys in my family as a small Father's Day gift. I wish I had purchased more however as each person I gave them to was so delighted with these neat little thin packets. The words to use for anointing were on the back. Everyone immediately put them in their wallets. My son-in-law said he would use them at camp tomorrow with all the boys.
I need more because everyone wanted more than just the two that I could give them. What a great find and great idea! I've left a picture of the back of the package since there are other pictures here of the front.
Convenient, useful and a great price.
I dislike having bulky keys and and oil in a key fob so this is the perfect solution for me. Oil Vault packages are small and fit into my slim wallet perfectly. Service is great and fast.
Fantastic Idea
I was given one of these by a neighbor a few months ago. I stuck it in my wallet without giving it much thought. It came in really handy when both of us forgot our regular oil vials when asked to give a blessing. Even after literally sitting on it for months it never leaked. I ordered a pile more and am going to stash them everywhere. Great idea. Always prepared now.