$0.99
$0.00
Oil Vaults
No more keychain oil vials that go missing or leak in your pocket. Oil Vaults are oil vials that go in your wallet | backpack | first-aid kit | 72-hour kit | glove box | and more. With Oil Vaults, you are prepared no matter where you go.
An Oil Vault is a credit card sized consecrated oil packet for use with LDS priesthood blessings.
Gone are the days of hoping you have the right keychain, or that your vial hasn't leaked, or broken off. With the Oil Vault, you will always be ready in a time of need. At the convenient size of a credit card, the Oil Vault will fit perfectly in a wallet, purse, or phone case.
Oil Vaults are made of durable, heat sealed, puncture resistant packaging.
Filled with 100% pure, unconsecrated, olive oil.
Simply tear off the tab and it is ready to use.
Products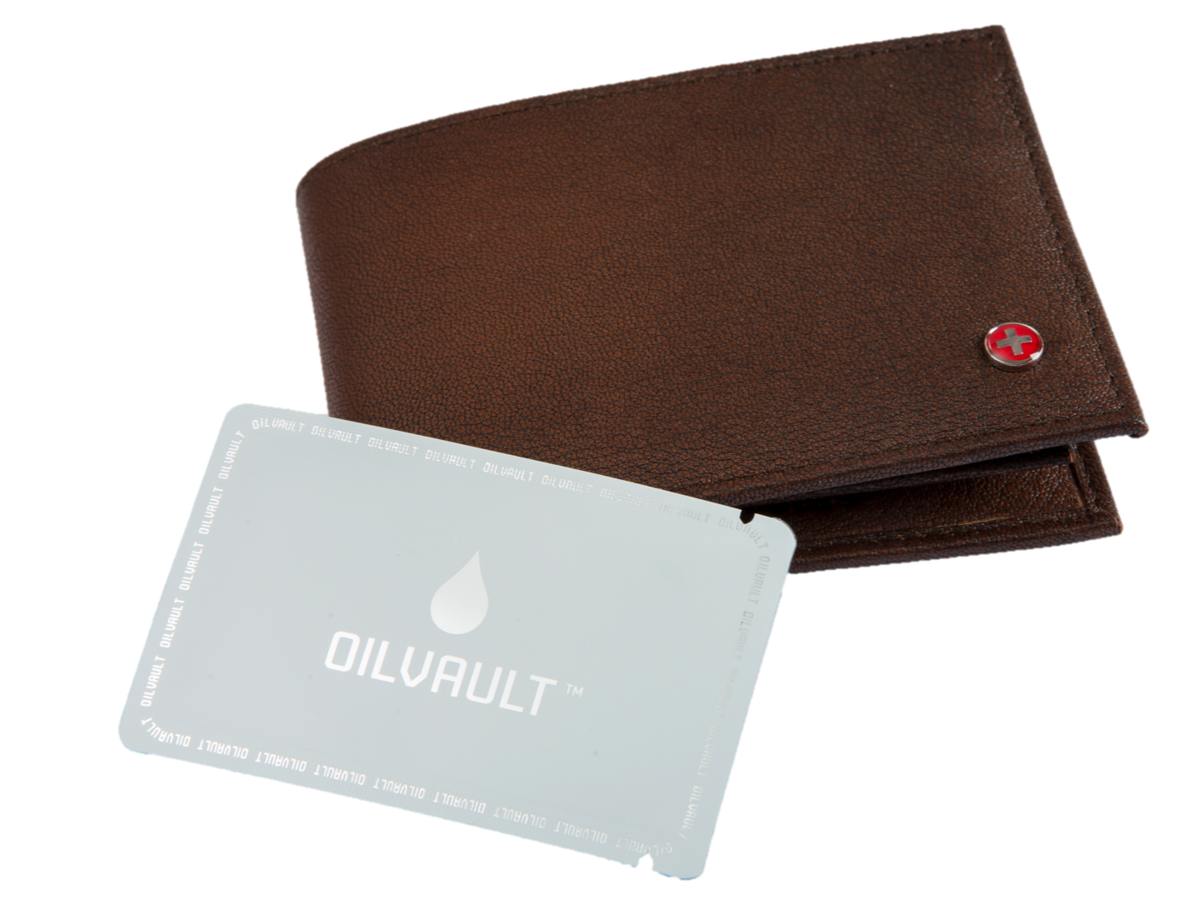 Oil Vaults are nearly indestructable so feel safe putting them in your wallet, backpack, luggage, or first-aid kit.

Oil Vaults also last up to 2 years.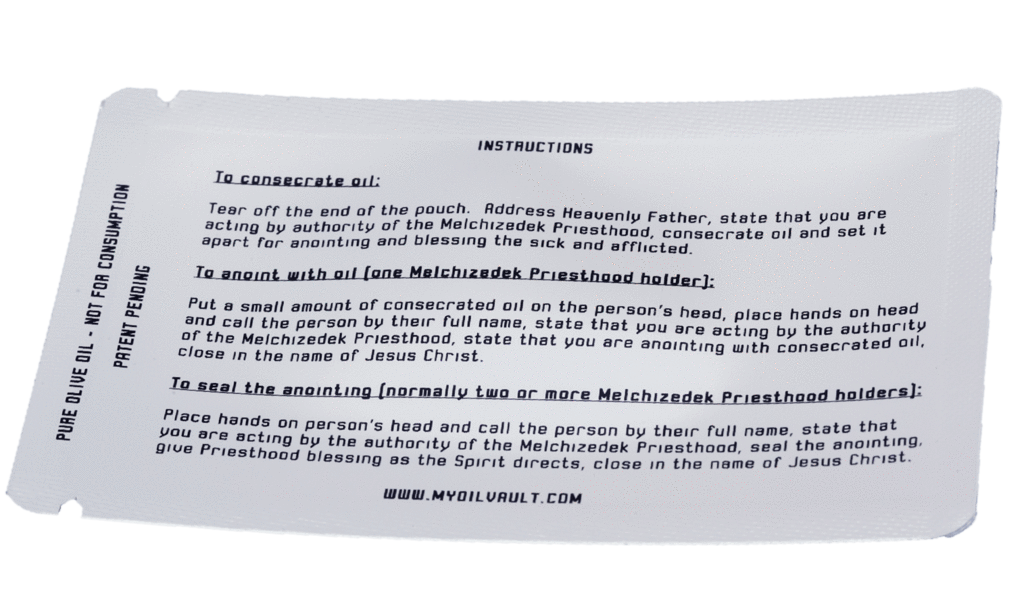 Instructions to give a blessing on the back of each packet
Nothing is worse as a priesthood holder than going to give someone a blessing and not being sure what the words for the blessing are. Whether you are new to the Melchizedek priesthood or just get nervous, now you have the words with you every time.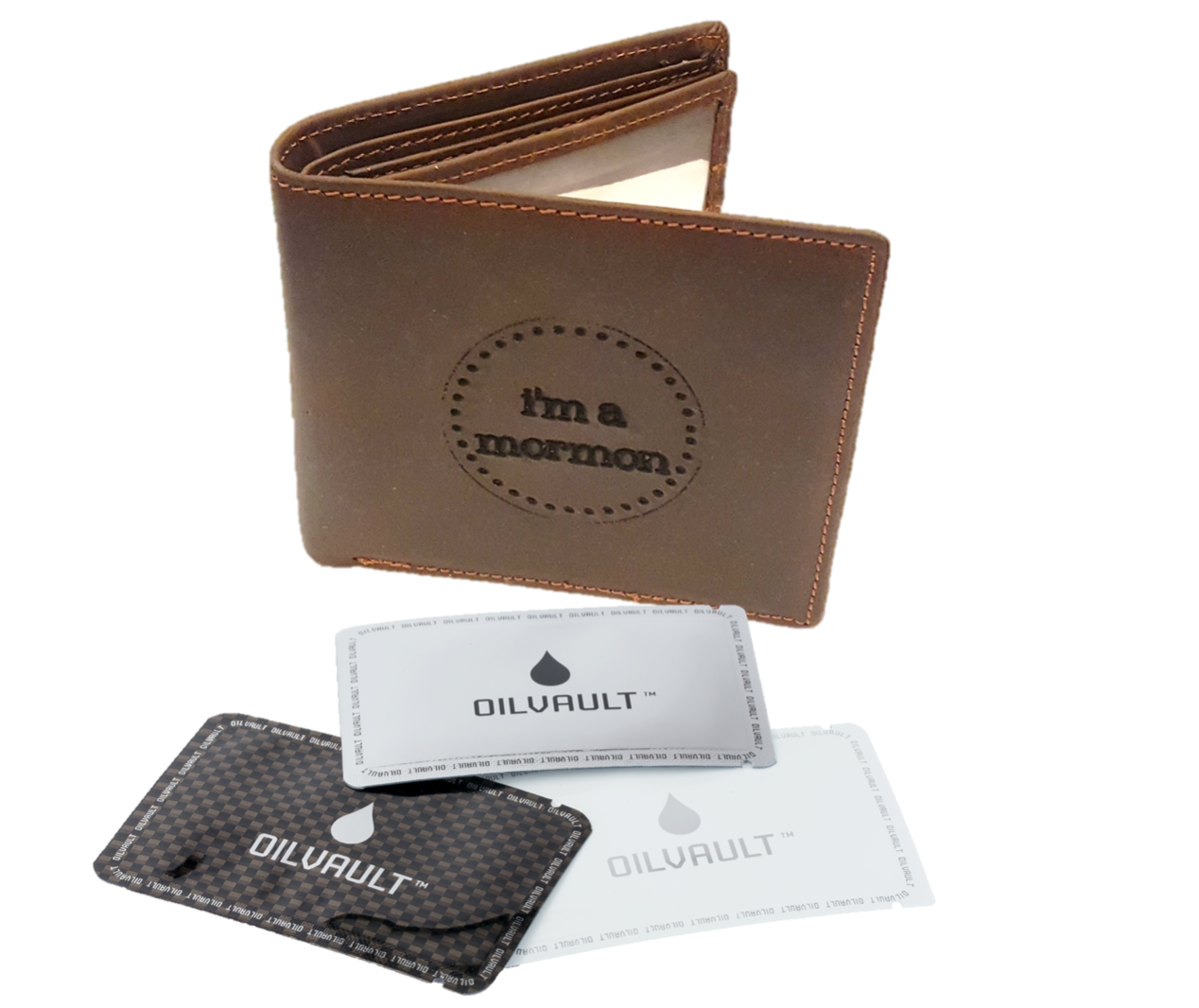 Oil Vaults make great gifts for the special priesthood holder in your life.
Shop Now
Finally!
Finally something discreet and easy to carry with you. I bought a bunch of these for my friends at work for the Hollidays. Perfect gift for dudes who don't necessarily like an oil vile. Love the product.
Love it
I bought a case for my husband and son-in-law. They love the convenience of having fresh oil at the ready. We gave some to the missionaries to try. Our grandson is preparing to leave d he's asking where his oil vault case is. Great idea!
Wonderful
This product really is inspired! I bought several so I could take them to an upcoming family reunion and give one to everyone. All of us (men and women alike) should carry one of these. You never know when there is a need. I'm sure everyone has witnessed the mad scramble for oil. Many of the sisters can relate to cleaning oil stains out of our husbands dress slacks. Never again. This is a wonderful way to be prepared, not only for the brethren but also for the sisters.
Everyone Should Have These
This product is genius! Everyone close to me (Male and Female) now has one. I think we should take preparation seriously, it shows the "works" to our faith in the priesthood and in Christ. That doesn't mean me have to work hard. The old adage says "work smarter, not harder", this is not only smart, it's genius! Every member of the church should have one. I love the product so much that I bought one for every adult member of my ward. The design is perfect, and super durable! I love that it has instructions on it so those that forget have a quick reference, especially in emergency situations when things slip the mind easily. Last weekend I was snowmobiling and everyone in my group had one. It was truly great to know that if any accident was to happen to any of us, we were prepared to administer. Just like we should be reading the scriptures and praying every day, we (as priesthood holders) should be preparing for the time we are called upon to give a blessing. This product is awesome, get one for everyone you know! I keep one in the back of my phone case and one in my wallet, I always have at least one of those with me at all times so I'm always ready. I can't recommend it enough.
Great idea
Convenient to have at all times. What did I do before!?!?